Installation with video
Wood display boards, LCD display screen, stool, and various specimens and magnifying tools
6 × 7 × 3 feet

Peer through a magnifying glass and consider "home".
In my life, I have lived in five different cities, and with each move was a loss of a sense of home. Most recently, I had the heart-wrenching move of leaving my home of nine-years in West Hartford, CT, for Rochester, NY. The area of Hartford is where I gave birth to my son, and watched my mother die. The house we left was the only house I ever lived in that really felt like "home". 
Once I prepared to leave in the summer of 2021, I found myself literally grasping for pieces of place to keep with me. I needed something physical. While I was walking our dog down the Trout Brook path near the house, I recalled the many days in Spring of 2014, when I had pushed my son in a stroller down the same path, so many times. I started to grab the materials around me, plants, leaves, flowers, berries, seeds. 
Then in early 2022, I embarked on a mission to visit all the places I ever lived and collect matter that reminded me of my homes of the past: the New York City; Pittsburgh, PA; Boston, MA; Hartford, CT, and Rochester, NY regions. This was the beginning of "Capturing Home". In this work, I am asking viewers to sit and examine "home", the loss of it, and the repeated efforts to establish a new one.
When my mother talked of her homeland Myanmar, she often talked about the flowers that would bloom in abundance on the streets of Yangon. I realized I do the same when I think about the places I've lived in the past; the bright yellow ginkgo trees on Beeler Street in Pittsburgh, the massive weeping cherry tree on Inman Street in Cambridge, the berry bushes in the backyard of our West Hartford home that we would pick with our son. The cycles of blossoms and flora of streets and green spaces are tied to my memories of living in those places, season after season. 
These specimens are like my memories of these places—many wither and fade in their own time, while others endure.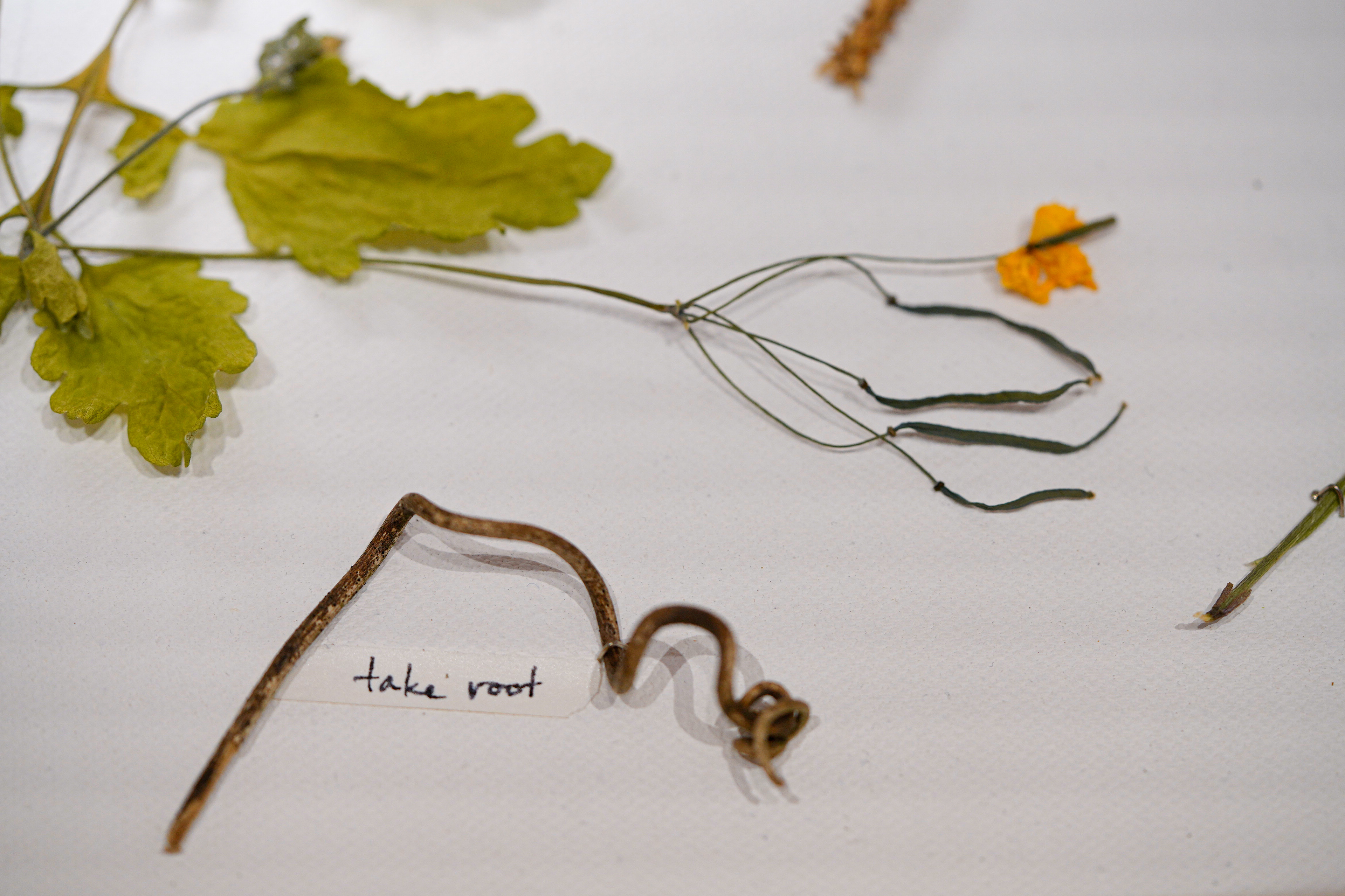 Special thanks to Jeremy Siborg—the current owner of my former home in West Hartford, CT—for openly allowing me to revisit the yard to collect specimens.
Thanks to my long time friends, Silvia Illia-Sheldahl and Paxton Sheldahl, who allowed me to stay with them while I collected from the Cambridge/Somerville area outside Boston, MA. They always make me feel at home.


Thanks to Mark Dion for acquainting me to the collection practices and mentalities of the classic naturalists, and Jeffrey Yoo Warren for reminding me to look closer.